In some way, shape, or form, every organization relies on intranet software—or at the very least, a mixture of platforms to deliver what an intranet accomplishes. That's because workplaces need their employees to receive internal communication, they need information to be centralized and easily shareable, and employees need to feel valued and engaged in their jobs.
Over the last decade, this need has grown rapidly. The rise of remote work and surge of enhanced technology has transformed how modern organizations communicate and collaborate. According to numerous studies, like the 2022 Garner Guide for Intranet Packaged Solutions, workplaces are under increased pressure to keep up with the experience customers and employees expect, which has forced workplaces to prioritize new ways to retain and engage their employees.
Intranet software is the solution. With intranet software, everything your organization needs to operate—communications, workspaces, document storage, employee directories, knowledge sharing, and integrations—all lives in one place. Organizations aren't constrained to the limitations of email to send company-wide, departmental, or exclusive communications. Higher-ups can maintain a human-centric culture that supports widespread and evolving workplaces. Employees can collaborate from any location. And directors have immediate visibility into project updates and ongoing tasks.
We'll get into the pros and cons of specific intranet platforms later in the post, but let's cut to the chase. What are the top intranet software vendors of 2023?
Top 12 Intranet Software Vendors of 2023
Generally speaking, organizations who explore these platforms are looking for specific intranet ROI points—such as increased productivity, streamlined processes, and higher employee engagement. But some of these intranet software companies specialize in specific use cases, which may or may not be the best fit for you. Let's take a look at the benefits of intranet software, tips to choose the best platform for your needs, and evaluate the top intranet software platforms of 2023.
What is an Intranet?
You might be asking, what is an intranet? Intranet software is a digital hub for all organizational communication, knowledge distribution, and collaboration. Modern intranet software serves as a resource for employees, HR departments, and directors, by providing people and project management tools that centralizes employee data for administrators, while tracking projects and sharing information to team members.
But now more than ever, intranet software also serves an equally important function: enhancing company culture. Intranets are a place where people can connect with the organization they work for and the people they work with. That's why many intranet software companies also label themselves as employee experience platforms or employee communication apps—employee-centric workplaces are continually becoming the focus for organizations, so as a result, technology is reflecting this shift. Ultimately, all of these terms are used to describe intranet software.
To improve the employee experience, some intranet software vendors have employee engagement tools, such as recognition badges, social features that empower employees to like, comment, and share ideas, interactive org charts, forums, and easy-to-use customization that gives your culture a digital identity. It all boils down to what you're looking for: do you want a platform that has everything—from document management systems, internal communication, and employee engagement tools—to support all areas in your business? Or, do you have a specific pain point that you want a software to improve, such as communication?
The problems you want to solve will dictate the kind of intranet platform you land on. While there's many tools that intranet software has, here are top features to consider.
Features every intranet software should have:
1. Workspaces.
Workspaces, or as we at Axero call it, Spaces, are dedicated areas in your intranet software that centralizes messages, people, and files for a specific department or project. Spaces gives your teams a homebase for relevant information as it pertains to a particular department or company initiative (see #31 in this intranet ideas post to learn more about spaces!)
Your sales team, for instance, can have a space to access a sales people directory, post a question in a sales forum, or find a competitor comparison in the file section. Your leadership team can have a private space to organize confidential information and discussions. With a flexible intranet software the options are endless and will provide a true hub for your people.
2. Knowledge sharing tools.
It doesn't matter what industry you're in or how your organization is structured. Successful companies need effective knowledge management tools to make collaboration easy and internal information accessible—two huge wins!
Tools, such as wikis, articles, and forums, allow you to create informative content while co-collaborating with team members and encouraging interactions with comments and likes. Notifications that appear within your intranet or other areas like Slack, Teams, and personal browsers also add an extra layer of urgency and visibility.
3. Elastic search.
Google conducts 99,000 searches every second. Chances are, you and your employees are part of this statistic. Intranet software can be your organization's internal google for anything and everything.
A good search will yield results for any document or conversation in your intranet. A great search bar will yield results for content inside and outside of your intranet, along with filters and tags to narrow down what users are looking for.
4. Recognition challenges and badges.
Here's where employee engagement and intranet software collide. Aside from some tools that can be used to engage employees, like polls, comments, and surveys, there are a few features specifically designed for employee engagement best practices.
Badges allow managers and team members to send a kudos or virtually highlight a job well done. This not only makes the receiver feel special, but it also reinforces positive behavior to your entire community. Recognition challenges also allow organizations to create programs that employees can complete to earn a reward.
5. Content publishing features.
In order to share information, increase engagement, and empower action, you need tools that can create appealing content. The ability to add tables, embed videos, play around with layouts, and add images and colors is what will take your information to the next level. You not only make your content visually pleasing, but you also make the information more digestible for the reader while simultaneously improving communication.
Some intranet software also allows you to set expiration dates that will automatically notify the author to ensure knowledge is always up-to-date and helpful. You can also set up approval workflows to streamline content production.
6. Org chart and people directory.
Since people are the focus of today's intranet platforms, we'd be remiss to not highlight the ultimate people features: the org chart and directory! If designed right, org charts make your entire workforce more connected and help users understand their role in the larger picture.
Employee profiles can also go beyond the standard corporate questions to showcase people's personalities and make them feel valued.
7. Collaboration tools.
Sharing and receiving information is important. But particularly for large workforces and remote teams, the ability to collaborate is how projects get completed efficiently and successfully. Your intranet software should be equipped with online collaboration tools so users from any location can work together.
This may include integrations with collaboration platforms, such as Google Workspace or Microsoft 365, so team members can access and work on files in real-time. Cases and tickets also connect the right employees to solve an issue or work on a relevant task.
8. Integrations.
For your intranet software to be the single source of truth for your organization, the tools employees use and the applications your administrators need should integrate or be centralized in your digital workplace. Otherwise, your intranet will be one more tool that employees bounce between, which wastes time and reduces overall productivity.
Single sign-on integrations will import employee data into your intranet (which is a must for most HR departments), create uniform login credentials for your employees, and in some cases, auto-fill employee profiles. Other apps, like Slack, Teams, Outlook, Vimeo, and Excel, can also integrate with some intranet software vendors.
The goal is to boost productivity by centralizing resources, aligning your teams with targeted information, and connecting everyone to increase morale and employee engagement. Whether you have remote teams, frontline workers, or a large workforce, everything ties together with branded pages and engagement tools that brings your people together and elevates your culture.
How to choose the best intranet software.
Choosing the right intranet software is a timely process because the market is saturated with hundreds of vendors that appear to have the same features and benefits. One way to get started is to explore highly rated intranet softwares from trusted sources, like this SoftwareReviews report, to see what's out there and also narrow down your list. Market analysts will take into account usability, security, and reputation, ensuring you explore intranet software options with experience and has fully built-out features. This way, you can weed through intranet software platforms with the expertise of market experts and feedback from actual people who use the platforms.
Creating an outline of your intranet objectives and requirements will also help you determine what your teams need and what you're looking for. It will force you to think through how you want your employees and directors to use the platform and fine tune the overall vision. The final step, which can lead to the most telling part of this process, is formulating specific questions for each vendor. The right questions will help you uncover what intranet software platforms claim to do versus what they actually do. You'll find that intranet software platforms are usually too simple or too complex. Both scenarios limit your abilities to get the most value from your platform and can lead to hidden costs. By outlining strategic questions, you will get a better idea of what to expect in terms of the user experience, investment, and overall value.
Top questions to ask when evaluating intranet software vendors:
1. Can you easily customize the platform and are there specific adjustments that only the vendor can do?
The ability to customize your intranet software is how you take a generic looking site and make it your own, increase engagement, and connect users to your company culture and values. Customization also happens to be a weak spot for many platforms, which makes it a great starting point to decipher where your contenders lag in functionality. Some vendors appear to be easily customizable when in actuality performing a simple action like changing banner colors and logos has to be done by their support team. On the flipside, other vendors might be too customizable and complex, which will force you to invest in developers or in-house experts to control the look, feel, and functionality of your site. Customization is an area where there may be add-on services or unforeseen headaches for your team, which is why it's wise to fully understand what's possible and what is not.
2. How segmented can you get with communications?
Many intranets on the market have very simple business communication tools, which is surprising because internal communication is a core function of any intranet software. Fully understanding the breadth of features and how they actually work, is key. How do admins send communications out to different teams? Can admins create custom lists of employees to send targeted announcements? What are the different channels that users receive communications? These are all important factors to consider so you know every option available for reaching employees with the information they need.
3. What integrations are available and how in depth are they?
If your intranet software doesn't integrate with the platforms you rely on, you miss out on one of the biggest benefits of having a digital workplace: centralized tools and resources. Some key integrations to consider are single sign-on, email servers, document management apps, instant messaging platforms, and calendars. Be sure to not only ask if the vendor integrates with these applications, but see how they work so you know how deep each integration goes.
4. How flexible are the permission settings?
Strong permissions and intranet governance will make the world of a difference in how your organization can self manage your intranet software. In some cases, there's not enough permissions, which falls on the shoulders of your IT department or a single user to make updates to content and pages. This not only wastes time for your IT team from focusing on other projects, but it also holds back your individual departments from sharing information quickly.
5. What does the implementation process look like?
One of the most stressful components of adding a new tool into your business is the implementation, training, and launch. For business tools, particularly platforms like intranet software that can be used by hundreds of people, everyone needs to feel comfortable using it for it to be effective. If people don't know how to navigate your site or how to use important features, then your organization will not get the full value. Review what the implementation process looks like—how much training is required for different groups of users and how do you do it? How much assistance do you get from the vendor? These questions will help you figure out how easy—or difficult—it will be to get your workforce on board with your new intranet software.
6. Do you get the right kind of ongoing support for your needs?
A great digital workplace vendor doesn't just sell you intranet software, they create a lasting partnership with consistent and valuable client support. Let's say you run into a big issue, like your entire user base of 350 people are receiving email notifications anytime anyone comments on your site, but you did not set up your settings to do this. Can you reach out to a rep directly? Do you file a ticket, and if so, what's the expected response time? Or are you pointed to documentation that doesn't help you solve the problem? Find out what continual support services each intranet vendor offers and if there's additional costs. This includes problem resolution but can also cover feature ideas and periodic training services.
7. Does the vendor have a consistent product roadmap?
Workplaces are constantly changing, which is why you want an intranet software that will be ahead of the curve. Some intranet software companies release new features every month, quarter, year, or every few years—all drastically different timelines. By finding out each vendor's product roadmap, you can gauge how important innovation is for them. You want a digital workplace that will take you into the future and supply your user's with the most modern and up-to-date tools.
8. If there is a mobile app, how does it compare to the desktop experience?
For many workplaces, an accompanying mobile app is a must because many organizations have frontline workers that need access to communications and internal knowledge. If a vendor has a mobile intranet app, it is imperative to fully understand how it works and what features it may not have compared to the desktop version. Customization on the mobile app could also be limited so be sure to also explore how branded your app can be.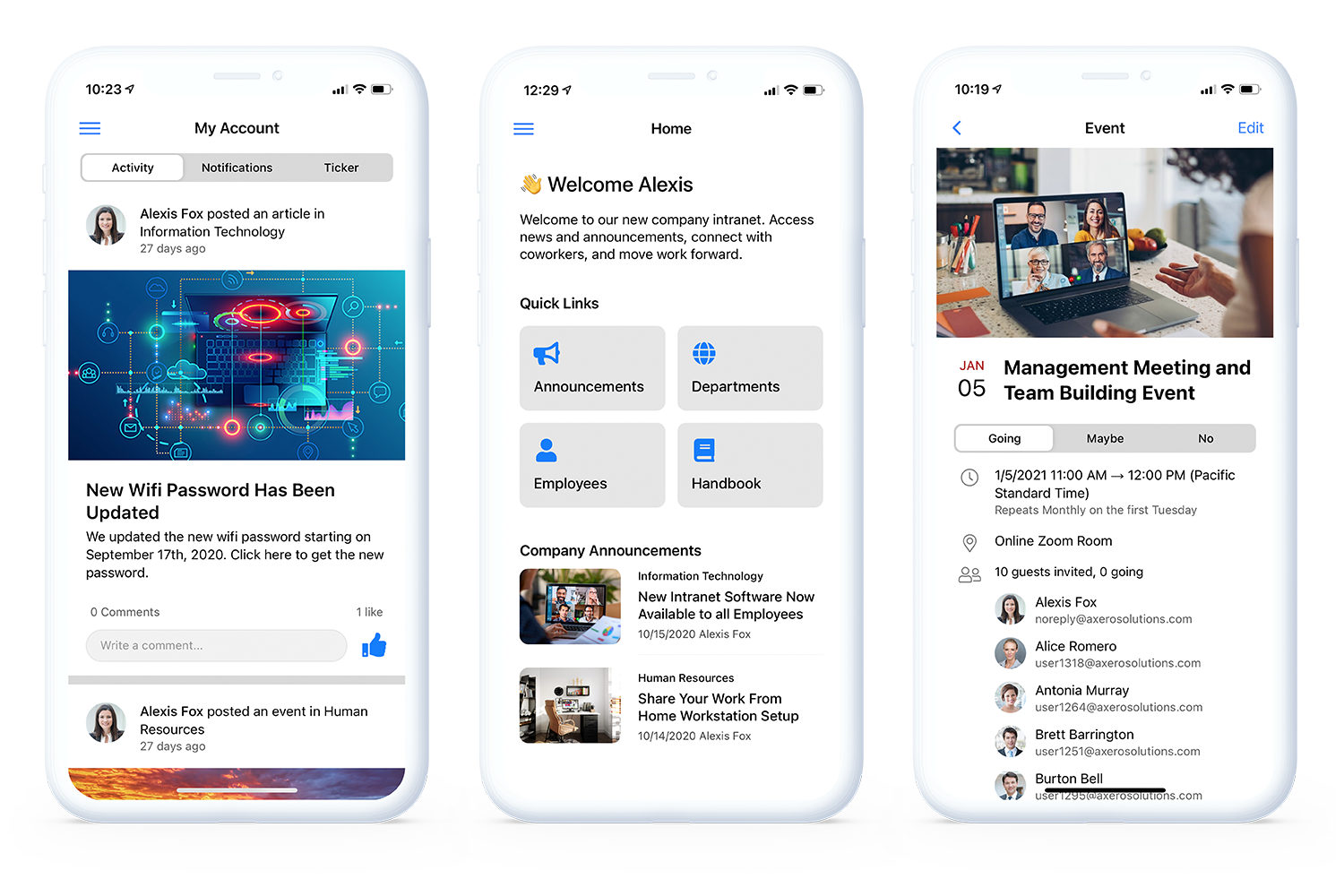 As you'll find, asking the right questions during demo sessions will uncover what each intranet software vendor actually has and in some cases, you may discover more tools that you didn't know about. By meeting with your project leaders, mapping out a checklist of essential features, and thoroughly reviewing highly rated platforms, you'll put yourself in the best position to select the right intranet software that checks all of your boxes.
The best intranet software platforms of 2023.
There's a lot of intranet software platforms—and most of them appear to accomplish similar goals. But how do they stack up? And which one do you actually need? We ranked some of today's most popular intranet software to help you narrow down the list.
1. Axero
If you're looking for an intranet software that has it all, like internal communication, knowledge management, and employee engagement, and you want flexibility, then Axero is a vendor to add to your list. Axero is used in different ways by organizations across numerous industries because users can distribute knowledge to employees and customers. From universities providing their students with a digital hub, to franchises centralizing information for dozens of stores, to companies looking for a standard intranet to organize internal operations, Axero is an intranet software that's adaptable.
Axero's award-winning customization is also easy, which includes the look and feel of pages and how tools are used—a huge plus because users can self manage their own sites and not rely on outside support teams. Although features can be turned on and off, organizations looking for a simple platform will likely opt for a different solution because Axero is designed for many use cases, which comes with a lot of features.
2. Workplace from Meta
Chances are incredibly high you have a Facebook. Did you know Facebook, now known as Meta, also has a communication platform for workplaces? One of the biggest pros of Workplace is the familiarity users have with the UX and the low costs. But as with anything, Workplace is inexpensive because it lacks basic and important functions of standard intranet software platforms.
There are no true workspaces where team members can collaborate on projects, the appearance lacks professionalism because users cannot tailor pages to match their branding, and Workplace does not centralize voluminous files and documents. Workplace is a great option if you're looking for a cost-efficient option to send quick announcements, but you will be severely limited on standard functionality to manage daily operations in your organization.
3. Bloomfire
Bloomfire is an intranet software specifically focused on knowledge management for internal use and customer relationship data. Organizations choose Bloomfire because they are first and foremost focused on knowledge sharing and gathering insights.
Bloomfire integrates with top business apps, like Salesforce, Zendesk, and Microsoft Dynamics, which is appealing for organizations that want to centralize client-focused tools. Unfortunately, users have reported that search functionality can lag and there's noticeable shortcomings with content creation and formatting.
4. Simpplr
Looking for a way to blend internal communication channels with email? Simpplr is an intranet software that has the majority of intranet tools you expect, and also an email builder. The Simpplr Employee Newsletter allows you to create custom newsletters that will aggregate content from certain parts of the Simpplr site. Unfortunately, this feature—along with the Leadercast video—are add-on features and require additional costs.
Customization functionalities are also limited, leaving some users with cluttered homepages. Users have also noted that event management integrations and the ability to leave comments on activity could be stronger.
5. monday.com
Monday.com is a commonly known collaboration software designed specifically for remote teams. Focused on work management, monday.com has numerous tools to track and oversee projects, workloads, processes, and goals. It also has an innate sales CRM, complete with a pipeline feature, lead management, and performance tracking.
Users speak highly of the interface and centralization of relevant documents for specific projects. Some have noted implementation is burdensome and features across the board are not robust. Additionally, there are substantial costs for customer support services outside of the helpdesk.
6. SharePoint
SharePoint is regarded as one of the most popular intranet software companies on the market. But did you know that technically speaking, SharePoint is not an intranet? Yes, you read that right! SharePoint is a document management application that can be used to build an intranet and store the information you want in an intranet, but it is not an out-of-the-box intranet software.
A lot of companies use SharePoint because it is a Microsoft product and is equipped with deep M365 integrations and file storage capabilities. But with these deep integrations come a lot of complexity—too much complexity. The infrastructure is so complicated and customization is so intricate, that organizations need to invest in SharePoint developers to manage and maintain their sites. (Not to mention SharePoint as a standalone application is already costly 😬.)
7. Workvivo
Workvivo is an intranet software focused on employee communication, engagement, and culture. Features include all of the general tools you would expect, including a couple neat capabilities, like hosting podcasts and livestreaming events. Users like the easy-to-navigate interface and social capabilities. However, to customize certain areas in the site, users need to lean on Workvivo's support team to make changes.
Customers of Workvivo also say they wish some features went a little further—more formatting choices, more flexibility with permissions, and more options to control where and how events and content appear throughout the platform.
8. Yammer
If Microsoft's SharePoint is highly complex, its counterpart, Yammer, is on the opposite side of the spectrum. Also owned by Microsoft, Yammer is a collaboration tool designed for internal communication and engagement. Part of the appeal is that Yammer is a simple platform and inexpensive when compared to alternative intranet software companies. But, Yammer's pros are also its cons.
Because it is an out-of-the-box application, there's a lot of limitations—even a simple action like turning off email notifications is not available for some users. Many customers also complain about getting bombarded with automated emails, which takes away from productivity and clutters a streamlined communication process.
9. Interact
Interact is built for medium-sized companies who are predominantly focused on communication. Users turn to Interact because of their design services, out-of-the-box landing page widgets, and ability to segment communications to specific audiences.
Because there is a strong focus on communication features, users have reported other areas in the app, like the search bar and calendar tool, lack additional capabilities that would bring more value. Additionally, if you're looking for an on-premise solution, Interact is not the intranet for you because it is only a cloud application.
10. Noodle
Noodle is an intranet and communication platform that offers out-of-the-box solutions for organizations looking for a quick and low-cost portal. Noodle's strength is its ease of use—customers often compare the interface to Facebook and LinkedIn—and its low cost.
Users have noted that certain integrations, like the Outlook sync, need to be more refined and the site itself can be glitchy.
11. Unily
Unily is an intranet software that focuses on top workplace solutions, like internal communications, knowledge management, and employee engagement. Along with standard social tools, Unily also has a broadcast newsletter feature, which allows you to create templates and send automated emails about intranet activity and updates.
Users love the intuitive nature of the platform's navigation and the ability to create engaging pages with drag-and-drop widgets. What some users have called out, though, is glitches. Some sites experience bugs that need to be resolved. Unily also relies on metadata for dropdown lists and tags, which requires manual updates.
12. Blink
Blink is an employee experience software that brings together communication and engagement tools in one app. Users like that it's an interactive experience where employees can easily spark conversations, share photos, and engage with each other. Navigation is also highlighted as a plus because the layout is familiar for the majority of users.
A downside is a lack of flexibility to better control the user experience. While users appreciate the ease of use, they have also reported issues finding posts because content displays chronologically.
Conclusion.
Intranet software is the number one technology for how modern workplaces maintain daily operations and reach their employees near and far. Designed to centralize and distribute information, the overall goal is to ensure employees are connected to their roles, to their team members, and to their employers. As your workplace evolves—whether it's upsizing staff size, adding new office locations, or changing a major component in your strategy—a strong intranet software will adapt with you. This is why it's never been more important to make sure you have a digital workplace that will support your people and take you into the future.