In order to increase efficiency and productivity wherever you are, simplify IT management, find user-friendly solutions, and stimulate employee motivation, organizations turn to internal communications software.
It's an obvious solution – today's communication tools enable companies of all sizes to reach and engage users where they'll see it, which is key because too many organizations are getting by with unaligned workforces. 74% of employees feel that they're missing out on company information and news, according to Gallup.
If your employees are unaligned, it signifies that they may be frustrated and confused, which impacts overall success. This is why your business communication tools are so important. The right communication tools can streamline who you reach and with what, ensuring your communications are targeted, relevant, and acted on by those who receive it.
Here are 11 business communication tools that you can get started with today.
Table of contents
1. Social intranet software.
At some point, every organization needs to reexamine its communication strategy.
It's easy to throw new technology at your people. But to truly get to the root issue, you must look at what is wrong and why this is happening. By looking within and understanding the cause and effect, you can gauge what kind of tools will solve your communication issues—if new technology has been determined as a solution.
Some of these symptoms include:
Difficulty staying up-to-date with company news and announcements.
Disconnected employees and departments.
Documents go missing or get buried in email.
No clear or standardized orientation policy for new employees and interns.
Too much paperwork.
The solution?
A central portal where everybody can access relevant information, communications, documents, and contracts in one place—no matter where they are.
A company intranet makes this possible while saving your business money by lowering IT maintenance costs. With increasing remote teams and widespread workforces, an intranet solution cultivates a more flexible workplace, which increases productivity by connecting employees to their specific goals in engaging and direct channels.
2. Private, group messaging, and chat tools.
Employees and project teams need collaboration tools to help them work together more efficiently. Without a platform to collaborate, it becomes difficult for members to share ideas and keep tabs on group progress. Emails often get lost, unread, or threads become frustratingly long. (Not to mention, removing email from the work environment would free between 7%-8% of workers' time for more productive tasks.) Providing an easy way for your teams to communicate brings members together and helps them be more productive.
Look out for these symptoms:
Inability to find specific conversations because email threads are too long.
Inboxes are clogged with unnecessary emails.
Responsibilities and progress among team members are not clear.
The solution?
Private and group messaging apps are critical business communication tools because they eliminate unnecessary emails and allow users to collaborate directly—and get answers quicker. These features are important for team members solving a problem or working on a project because they're collaborative in nature.
The ability to drag and drop files is huge. Users can also hop into impromptu calls and share materials on the spot. Many intranets also integrate with popular online platforms, like Slack, so you can also centralize all of your business communication tools in one place.
3. Task management.
Your overall business performance will not be as successful as it could be if you do not have an efficient task management tool. Combining strong communication features with assignment tracking capabilities, a task management tool will transform the way staff completes the most vital aspect of your company: their jobs.
Without a strong project management system in place, projects could be a confusing, timely process for team members who are unsure about what they should be doing. These issues further escalate when management doesn't have a direct way to monitor progress.
Watch out for these symptoms:
Staff is confused while executing tasks.
Members do not know the importance of tasks, when they're due, and how to prioritize ongoing projects.
Expectations and a person to report to are not clear to team members.
The solution?
A task management feature is one of the most effective business communication tools because it solves all of these problems. From execution to completion, task management software helps employees and directors reach their goals as efficiently and successfully as possible. Managers can directly assign tasks to team members and track their progress. They can also set due dates and priority settings, which appears in an organized list for everyone involved.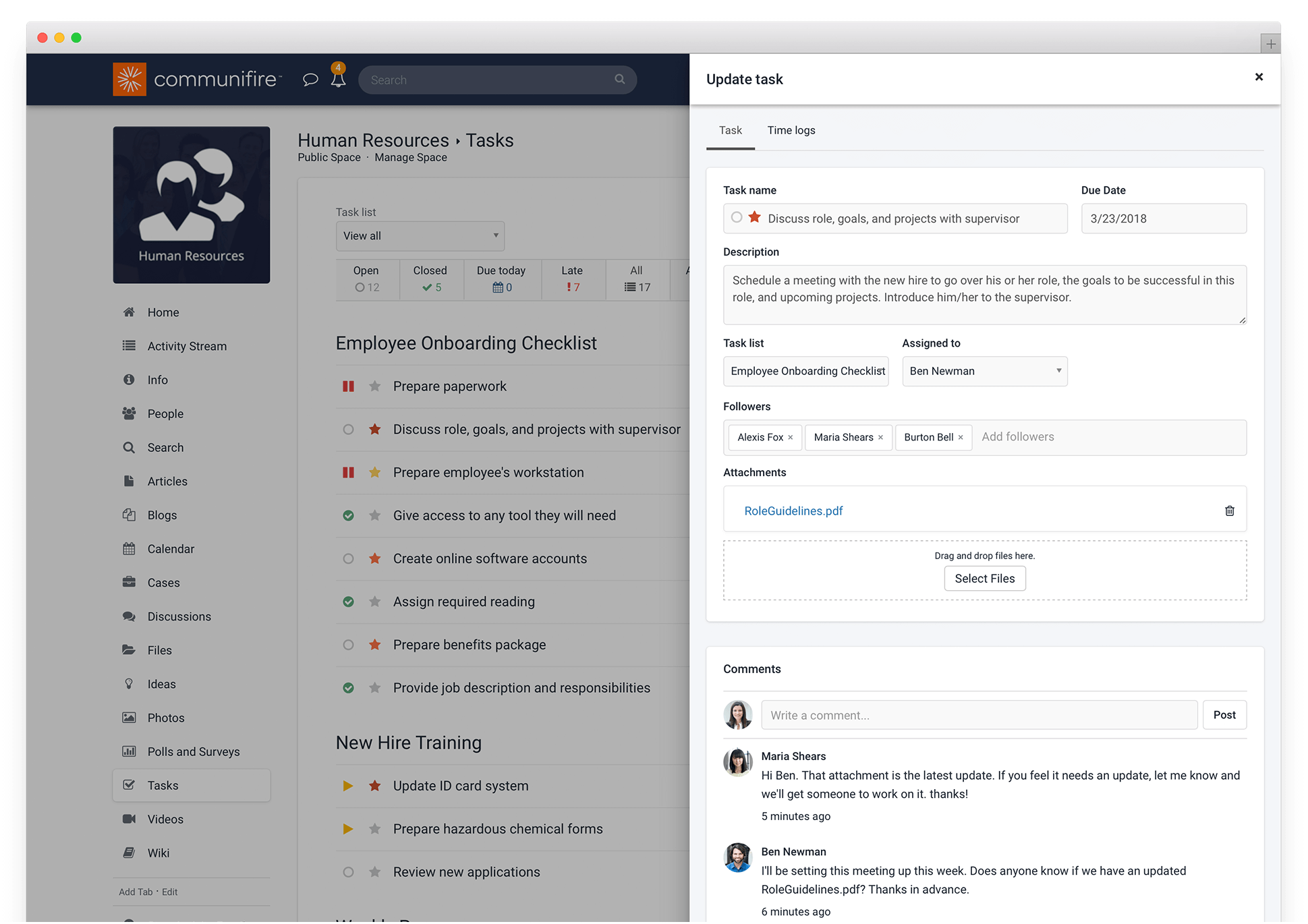 Task management, with built-in communication tools, helps employees know who is delegating an assignment, when it is due, and the level of importance so they can plan projects accordingly.
4. Cases, issue tracking, and ticketing software.
Today's customer wants the ability to connect with you across a variety of channels. The problem is that the people who need efficient support, like your customer service reps and frontline workers, don't always have the right business communication tools to assist customers promptly. Customer queries are generally lost, call volumes go up, and the inability to assign the right employees to handle customer queries leaves many customers frustrated.
The symptoms:
Customer retention is declining.
Customers are waiting a long time to get help and the overall customer feedback is negative.
Employees are missing customer queries.
Management cannot track the progress of cases.
There isn't an organized system to place solved and ongoing cases.
The solution?
Issue tracking software is one of the best internal communication tools to manage customer queries. Customers or employees can submit a case or ticket, get it assigned to the right employee, and have it resolved on time.
Cases, issue tracking, and ticketing software helps centralize customer support queries, track open issues, monitor team productivity, prioritize the most important questions, and collect valuable customer feedback that helps improve your products and services.
5. Internal blogs and videos.
You know the common saying "people eat with their eyes"? When your content looks good, people will want to read it. Great content will be the defining indicator as to whether your internal teams will be engaged or not. If you have low engagement from employees, little or no feedback, and an increasing ratio of lurkers to active participants, the type of content you post is likely the problem.
The symptoms include:
Staff do not feel empowered or motivated to upload content.
Low read and comment rates for content.
Employees are not sharing or referring to information within the company intranet.
The solution?
The brain processes visual information 60,000 times faster than text. Therefore, it's a no brainer that images and videos in your digital workplace will get more traction from your employees.
Using your intranet software to post training videos, messages from top-level managers, and culture videos will increase engagement and retention. When it comes to image-focused content, infographics are another great way to display important information. Particularly for data, timelines, or explaining complicated topics, infographics will simplify information in a catchy and engaging way.
Knowledge sharing comes in many forms—create and post training videos, videos messages from top-level managers, and behind-the-scenes footage about your new product launch, to inform your employees while increasing engagement.
For infographics in particular, use them as a business communication tool for marketing departments and to explain business processes. They are visually appealing and help communicate instructions quickly and easily.
6. Analytics and sentiments.
Determining where you need improvements is difficult when you do not have an accurate way to analyze information. Often, internal communications staff will manually monitor and log information into an excel sheet, when they could be spending time doing other work. Or their current analytics tools do not offer true visibility into the data that matters.
Your intranet is an investment into your business communication efforts. Therefore, to keep up with employee engagement best practices, it's important to monitor and track what is benefiting your company the most.
The symptoms:
Management does not know how engaged employees are with the company.
It's unclear if staff are generally confused about specific aspects within the business.
Management has a difficult time sorting and tracking internal data.
The solution?
An analytics and sentiment feature is one of the most effective business communication tools to evaluate user behavior. You'll never have to wonder how many members are reading an article, commenting on a forum post, or their overall feedback about content.
This data automatically stores into a comprehensive report. Determine what content is working and what isn't. You can also dive deeper into Q&A posts to understand how many people have the same questions. Gathering this information helps you to make necessary tweaks to improve your internal communication tools.
7. Discussion forums.
Sharing information in the workplace is vital for internal growth and community. Veteran workers can orient new employees on what's what within an organization, helping them get up to speed quickly and with fewer mistakes along the way. At the same time, a digital workspace where employees can ask questions, discuss projects and workplace issues helps bond everybody within the organization.
Here are some symptoms to look out for:
Employee questions go unanswered.
Management is divided on who to go to for queries.
Knowledge sharing is lacking within the workplace.
The solution?
A discussion forum that encourages management and employees to openly discuss any topic.
Discussion forums and related knowledge management tools, disseminate internal knowledge and brings everybody closer together. They are also great for archiving all organizational knowledge – sometimes conversations drives the most valuable ideas. Now, all those thoughts are stored and accessible for your entire organization.
8. Spaces.
When departments lack the right business communication tools and do not have their own space to share pertinent information, internal communications can be a jumbled experience. Department heads do not have an organized way to share information with employees in their division, and employees within that division do not have a designated place to find the information. This also isolates departments from each other, leading to an all-around disconnected company.
The symptoms:
Members within a department are unaware about news within their area of the business.
Staff throughout the company are unaware about updates and projects in various departments.
Members do not know where to find information related to a specific group within the company.
Management personnel have a complicated experience sharing department-wide news directly with staff.
The solution?
What's the best way to improve communication in the workplace? Spaces. Spaces are the best communication tool to divvy important content, files, and people into one livable place. You can create a space for anything – an HR department or an office based in Austin, TX.
Set permissions to designated individuals who can disseminate information and monitor the space. Members within a space can share photos, create forums, and receive notifications about every update without overwhelming their inboxes.
9. Alerts and notifications.
Creating and sharing valuable content is useless if members do not know about it. Many times, businesses already have the materials and dedicated staff, but lack a strong software to deliver and connect.
In these instances, companies rely on emails, but there are many situations where a social form of communicating is more appropriate and effective than an email.
Imagine this: you want to notify staff about an updated HR policy. You send an email and receive some responses. But what about the employees you haven't heard from? Did they read the email and the HR update? Did they ignore the email entirely? And now, the dozen emails you did receive is taking up unnecessary space in your inbox.
Watch out for these symptoms:
Staff is not reading important notices because they are lost in emails.
Staff have a difficult time locating information from a specific department.
Department heads are unsure if messages were received.
The solution?
An intranet application with an alerts and notification tool will make the world of a difference for your internal communications strategy. Notify staff about company-wide announcements, or send department-targeted updates in a noninvasive, direct way. Members will instantly receive notifications about any space they are members of.
Business communication tools centralize conversations between colleagues in one place. Staff will never have to worry about missing an email from a customer or external contact. A quick, automatic notification alerts members about important information you want to share within your platform.
10. Employee profiles.
To make your business communication as connected as possible, you want your staff to know each other. Whether a company is large or small, if a member does not know the people and roles within your organization, communicating about a specific topic, or asking questions is difficult.
The symptoms include:
Members do not know the appropriate person to contact for questions or information.
Employees are spending a lot of time tracking individuals or information through other colleagues.
Staff do not know members within departments and who they report to.
The solution?
Employee profiles are a powerful business communication tool because they provide context about each person within your organization. Members can learn about specific individuals' expertise, understand their role, interests, and who they report to. This alleviates confusion when a staff member needs to contact a specific individual.
Furthermore, profiles put a name to a face. You not only accelerate problem resolution by providing employees with an effective tool to find the right person, but you also build a stronger sense of community.
11. Workflows.
It doesn't matter if you manage a team of two or 25, everyone can agree: we're all busy. Too often teams are waiting on feedback from busy managers, who barely have time for lunch. This can delay projects from completing on time – an annoyance for everyone involved. It also puts teams in uncomfortable positions, wondering how long and often they should remind managers about projects awaiting approval.
The symptoms include:
Content is not as timely as possible because it's been waiting for approval from higher-ups.
Managers lose track of projects and their due dates.
Employees are unsure when to consider projects finished.
The solution?
A workflow tool streamlines all project collaboration efforts by implementing an organized system for your entire company to handoff and approve projects. When employees complete a project, the supervisor is notified immediately (an added bonus: alerts are sent in a direct, noninvasive way without email.)
The project can get passed to as many supervisors as you wish and every member is looped in throughout the entire process. Workflows are seamless and easy – they empower your members to create content shareable for your company.
In conclusion.
Communication is the key to success. So how your employees, leaders, and customers communicate and interact with your organization matters. When equipped with these 11 business communication tools, you are better positioned to improve efficiency, engagement, and knowledge sharing in the workplace.