Communifire helps your employees work more productively, solve problems creatively, and collaborate with a shared purpose and vision. From employee communications and uniting your workforce, to sparking collaboration and driving employee engagement, it's exceedingly capable.
Our customers tell us that flexibility sets Communifire apart from every other intranet on the market. We launched Communifire over a decade ago because employees need a digital workplace that works for them—not the other way around. Your intranet should support your company's growth, not slow it down.
We've been working on Communifire 7.0 for nearly a year—improving the user experience, adding integrations, and enhancing features that matter most to you. Customer feedback drives our roadmap. You are part of this process and we're grateful and excited to share what we created together.
Inspire an Engaged Workforce Through Employee Recognition Features
Appreciation is a fundamental human need. What matters in the workplace is helping employees feel appreciated. Employee recognition is the timely acknowledgment of a person or team's behavior or business result that supports the organization's goals and values.
With the Communifire Recognition enhancements, you can setup badges to be a) given automatically based on a series of actions, or b) awarded peer-to-peer—to give a virtual "thank you" or "job well done." And with the advancements in 7.0, now Recognition has its own home-base, with an easy-to-use interface that brings it all to life. Check out the video below for an overview.
Learn about the new recognition features.
Sync SharePoint and OneDrive Files with Communifire
We added SharePoint and OneDrive integrations because many customers want to access those files in Communifire search—one place to find your files and documents.
Now you can set up two-way sync and map your SharePoint and OneDrive libraries to the Communifire Files section inside Spaces. Everything becomes accessible inside Communifire through its powerful search engine.
Discover more about SharePoint and OneDrive integration.
Create and Work on Word, Excel, and PowerPoint Files Online, Without Downloading Them
Microsoft Office 365 is the most widely used software suite by our customers. To make your life easier and work faster, we integrated.
Collaborate in Office and organize in Communifire. With the Communifire for Office 365 integration, your employees can create, open, edit and save Office files (Word, Excel, PowerPoint) without leaving Communifire. Teams can co-edit files in real-time in Office Online, while the files are automatically saved and managed in Communifire.
Ghostwriting: Publish Content for Other People
The new Ghostwriting feature allows a designated employee to post content on behalf of another employee. Maybe your CEO needs her assistant to post a blog or article. Or maybe you have a department account, where all company communications are posted, and you need a number of people to post as that account. Now it's quick and easy, just set up a few permissions.
Explore more in our Ghostwriting documentation.
Mobile App Updates for IOS and Android
Mobile is a high priority for our customers, so we're always updating the Communifire mobile app with new features and enhancements. Some of the more prominent enhancements include:
Preview options for mp3 (audio), mp4 (video), PDF, Word, PowerPoint, and Excel files.
Cosmetic improvements to the mobile interface. You'll notice cleaner pages when you log into the app and create content—a nice transformation into a new, modern digital workplace.
Attach photos and files to your Activity Stream and Space wall posts to add context to your messages.
Flag someone's attention by @mentioning them in comments, posts, and most of the content types. They will be notified via push notification and directed to the content or conversation for quick and easy access.
Brand New Analytic Tools
The more your company uses Communifire, the more valuable it becomes. We added more tools to help you understand how employees are using Communifire.
Audience Overview Analytics
The revamped Audience Overview displays site traffic and data about your users as interactive graphs. View the number of unique people, failed logins, new users, and active users.
Search Analytics
Know what keywords people are searching for in specific spaces or throughout your entire intranet.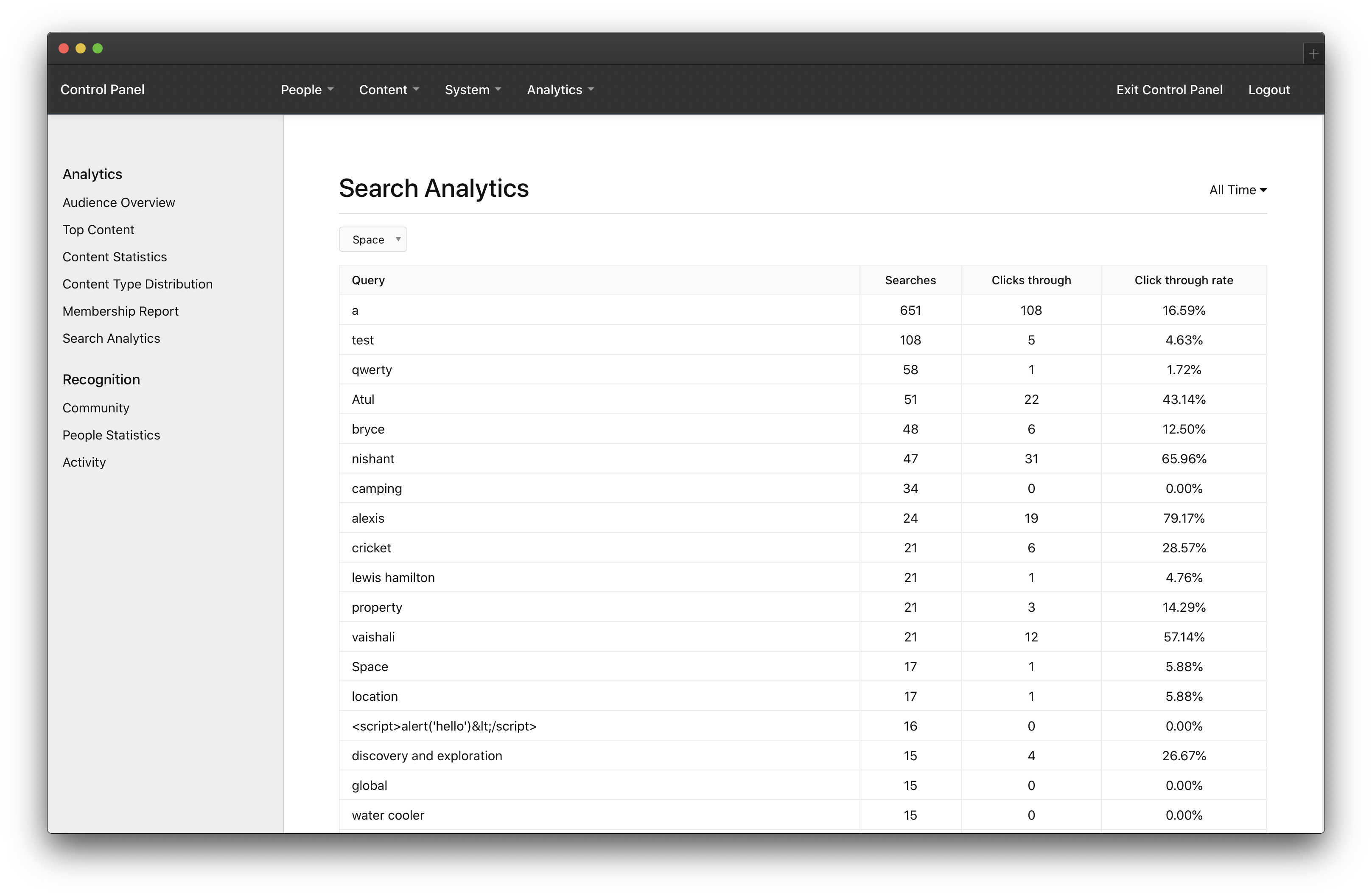 Content Analytics
Keep tabs on content in your intranet with our Content Analytic features. Use numerous filters to view recent data or see content trends over time throughout your intranet or in specific spaces.
Top Content Analytics
View the number of comments, likes, views, and ratings different content receives. Filter your analytics by space, content type, action type, number of records, or date range.
Content Statistics
All of your content engagement data displays as graphs so you can visually understand how employees are engaging with content.
Content Distribution
Review content trends in your intranet––see what types of content are published and set specific date ranges and spaces to pull the information you need.
Recognition Analytics
Get a full-spectrum view of recognition activity in Communifire.
Community Recognition Analytics
View visual representations of recognition activity and trends happening in your intranet. View graphs for total badges earned, completed challenges, total points earned, and total active users. Share the information with team members by downloading a CSV file.
People Statistics
Segment your data by individual users to see how many badges a user has sent and received, challenges they completed, their department, and who their supervisor is. Take this information on-the-go by downloading it into a CSV file.
Activity Report
Get a straight-forward view of all recent recognition activity in your intranet. The Activity Report is always updated and can be filtered by demographics, recognition program, badge, badge type, and date. You can also download it into a CSV file.
Find more details about all of the new analytic features.
Page Builder Enhancements
Page Builder is our most popular tool for customizing your homepages. We're always adding updates because the more options available to you, the more ways you can make Communifire your own. Here are the latest Page Builder enhancements:
Activity Stream Widget – Scroll through a live feed of recent wall posts, recognition activity, and new content happening in a space. Learn more
Recognition Activity Stream – When a colleague awards a badge, have a stream that shows the message attached to a badge.
Search for Page Builder Pages – Page Builder pages are now included in search so your employees can find them.
Page Builder in Manage Space – Make changes and manage your Page Builder page easily in the Manage Space section. You can also clone Page Builder pages here, to save time and keep your intranet uniform.
Read through every new Page Builder update here.
REST API Enhancements and Additions
For developers integrating with Communifire, we added over 65 new API endpoints to give you even more flexibility and access to create deep and meaningful integrations.
Check out the full list of new REST API endpoints.
Wrapping it up
Thank you to all of our wonderful customers, your ideas and contributions you have made to help us deliver the latest release. The entire Axero team is excited to see how you use Communifire 7.0.
If you have any questions or suggestions, please contact our Customer Success team. We're happy to walk you through new features and answer any questions you may have.
To explore every new update in the Communifire 7.0 release, check out the full release list.