Table of Contents
2. Collaborative digital workspaces.
7. Seamless technology integration.
In the last decade, business communication technology has evolved drastically. Tools and communication trends have pivoted away from email and shifted towards personable, targeted ways to reach employees. It's important to recognize these communication trends because the ability to evolve and adapt is imperative for companies who want to maintain thriving workplaces.
If you're gearing up for the new year and want to explore ways to stay competitive, you will need to embrace emerging technology that improves communication. That's why we compiled this list of the top 10 business communication trends, so you know what you need to be doing right now — to be ready for the future.
So, what are some of the trends taking place today that are used to improve communication at work?
1. Modern intranet software.
Intranet software, or a digital workplace solution, is the number one business communication tool that thriving organizations rely on. According to a study, 85% of companies have an intranet or employee hub of some kind. Businesses need a place to access centralized content, data, and people, to work effectively. This trend has been fuelled by the benefits of social media, advancing mobile devices, and the rise of remote work. With a modern intranet, all of your communications, documents, and people are in one always-accessible place.
From activity streams, notifications, and likes and comments, to blogs, wikis, and collaboration tools, today's intranet software is people-centric with social features that users are familiar with.They also offer a more convenient way to communicate — everybody can communicate and share ideas from anywhere, while contributing to the company culture and feeling like a community.
2. Collaborative digital workspaces.
Successful organizations recognize that team collaboration is central to their productivity. As a result, intuitive collaborative digital workspaces are a top business communication trend.
Modern digital workspaces empower employees to work like they're in the same room. Equipped with a robust set of knowledge management tools, co-editing documents, sharing ideas, delegating tasks and finding information is all available in one accessible place. It's become a must-have feature for many businesses, because teams who work in the same building, or miles apart, need workspaces to track progress, centralize content and people, and eliminate unnecessary emails that bottleneck workflows.
3. Unified communications.
Another business communication trend to watch for is unified communications. These days most employees expect a single source of truth when it comes to understanding their goals and doing their jobs efficiently.
Too often employees are scattered with multiple platforms and overloaded inboxes. Internal communications software puts an end to missed messages by streamlining important announcements, content, and conversations in one place. This includes chat services, phone and video conferencing, messaging, and feedback and commenting systems. Employees also receive information relevant to them, which eliminates confusion and provides a consistent user interface and experience across a range of devices and media types.
By tying together three-way communications: leaders to employees, employees to leaders, and employees with each other; a unified communication system reduces infrastructure costs and centralizes features for a more responsive experience. It makes everyone's life simpler and enables management to quickly see when employees are available.
4. Video conferencing.
While video conferencing has been around since the 1980s, new technologies have changed how teams work together. Video-enabled phones, tablets, and apps allow employees and management to screen-share, conduct presentations, and communicate in real-time.
Web-based video conferencing services have also made it easier for teams to meet in virtual rooms, which has greatly improved collaboration efforts. Most video conferencing solutions also come bundled with online collaboration tools such as document sharing, text chat, and screen sharing.
5. Robust mobile devices.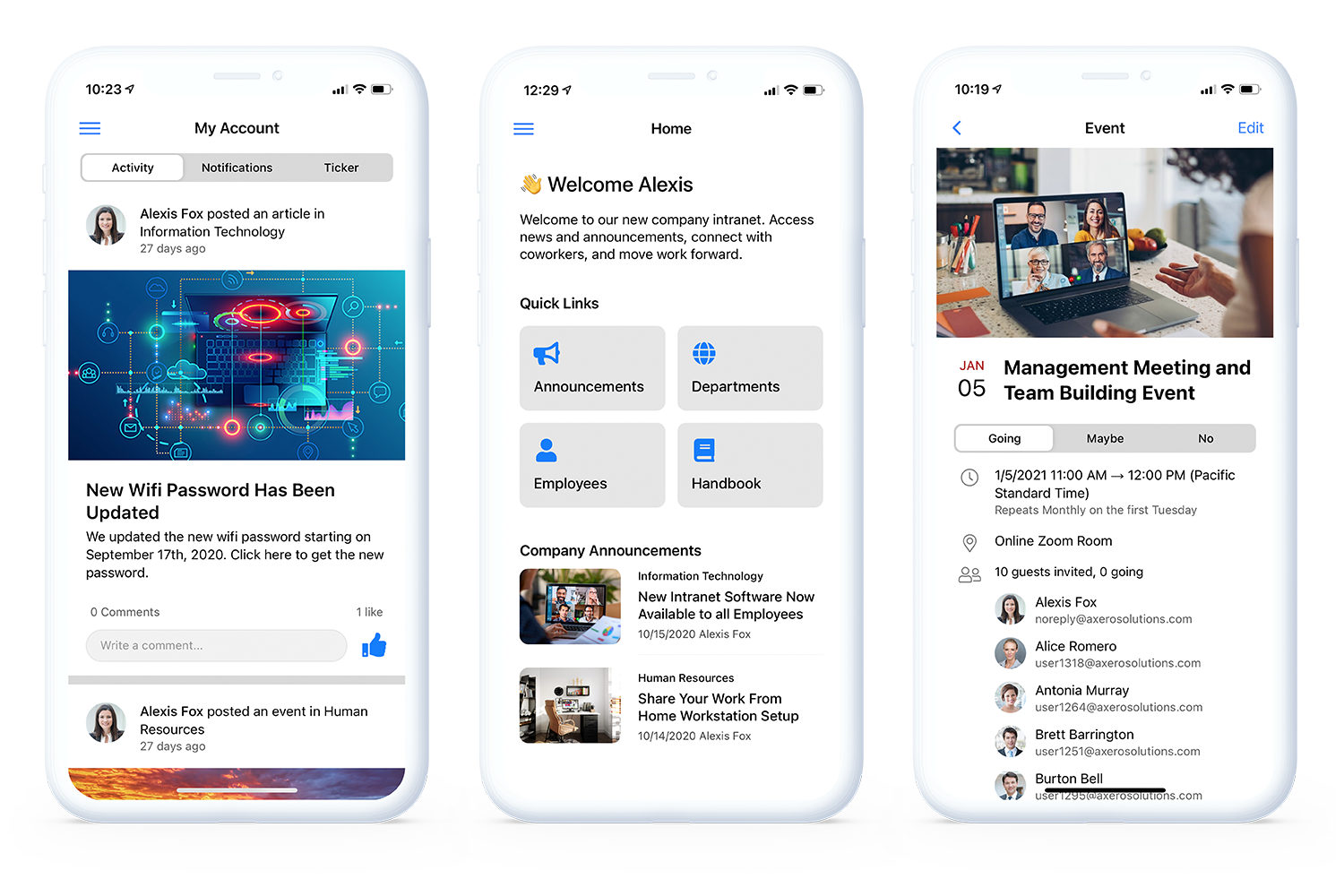 Mobile is king—and it's an undeniable form of business communication technology. Whether employees are commuting to work, at an in-person conference, or on-the-go, strong mobile apps bring the office to your people, wherever they are.
With mobile intranet software, employees can ping team members, access company data and receive important notifications. This connectivity empowers you to establish better internal communication throughout your entire organization. As an added bonus, if you establish a bring-your-own-device program, employees can use their personal devices at work and be just as efficient. The real benefit here is that employees enjoy using their own devices — and the company benefits by having easy reach to employees at all times.
6. Cloud-based apps.
By storing company data in the cloud, your organization can access anything, anywhere. Cloud-based services and apps are also accessible on mobile devices — making it highly convenient when collaborating on projects and communicating with your team. With real-time editing capabilities and other advanced sharing options, many businesses are opting for cloud intranet software due to its flexibility.
7. Seamless technology integration.
The ability to move conversations and data from one platform to another is huge these days — so much that you don't even think about. It is expected that all devices will sync conversations, tasks, and notes.
This business communication trend is also seen in some bring-your-own-device initiatives. Some organizations encourage their employees to use personal devices for work and personal uses — reducing friction between the two. As it turns out, company communication is greatly enhanced in the process.
8. Chat services.
Chat services are an immediate and direct way to collaborate with team members without the complicated email threads. You not only get the information you need faster, but can also use a range of media types including video and video conferencing. With the right intranet platform, you can also integrate chat into your digital workplace. (For instance, here's how Axero's Slack intranet integration works.)
Many modern intranet solutions also come with their built-in chat features—like Axero—so you can eliminate one less platform. Intranet chat is real-time while remaining unobtrusive.
9. Video communications.
Multimedia is the way to go when it comes to communication—and it's a huge business communication trend. By incorporating video, images, and infographics, you make your content more engaging and digestible for your employees.
Video is being used to train staff, explain a process, and to disseminate vital company announcements from management. Since video is more engaging, it is more effective as an internal communication method, which is why more companies are following this trend.
10. Infographics and images.
It's no secret: content with infographics and images receive higher engagement than plain text. With this realization, business communication tools are equipped with a suite of WYSIWYG publishing tools to make content engaging, beautiful, and stand out to your employees.
These tools empower you to include infographics, bright images, and visuals that convey your message in a compelling and engaging way. They are also very effective in explaining a process to employees, and there are many tools and apps available that can help you design and create them for a low cost.
In conclusion.
While communication trends and business technologies are continually advancing, these trends will be around for years to come. Keep an eye on the top 10 business communication trends, stay competitive, and continue to evolve with the changing times.