When it comes to running a business, streamlining internal processes can make or break a successful and efficient workplace versus a less productive and engaged one. An intranet portal can be the solution you're looking for because every employee, regardless of industry, needs easy access to the right information and people.
Especially in the post pandemic era, the ability to work remotely and incorporate flexibility into how teams work together has never been more important. Because of this demand, there's many vendors on the market offering similiar features.
That's why it's important to define specific goals for your intranet portal and to think through how you envision users to utilize the platform. This holds your investment accountable and helps you select the right intranet portal for your organization.
Fortunately, there are a handful of factors that a strong intranet platform should have. These features will help you determine stronger candidates from your pool of options.
If you're in the market for intranet software, here are 10 guidelines to point you in the right direction.
1. Keep your business goals in mind.
When choosing an intranet portal, it can be difficult to know where to start. You'll get a great deal of mileage out of defining what your intranet objectives are for your business, as it's important to find software that will help facilitate meeting them.
You may be looking to add new online collaboration tools to increase productivity and improve project management for departments. Or maybe you want to ehance the customer experience and distribute information to clients and specific groups.
Understand what your expectations are so you know what to look for.
2. Look for an intranet portal with an engaging UI.
It's important to have an engaging and easy-to-customize user interface. If your intranet is cluttered and lacks care in the design, why should anyone else care to use it?
The fact is that your intranet's UI can make the world of a difference for user adoption, engagement, and value. The UI has a direct correlation to the functionality of your entire site, which is the most important factor for an effective business software. The power of your intranet homepage, alone, can influence the user experience.
Be sure to explore what customization looks like for different intranet portal vendors. Can you add colors, logos, and branding easily to your pages? If you want to move tabs around in the navigation bar, how do you do it? Can you rename and reorder tools built into the platform? Do you need to use coding and HTML to do any of this?
It's important to ask these questions because you do not want to discover during implementation that you'll need to overhaul internal resources or spend more budget on hidden costs. The best intranet portal is easy to use and design, giving you control over expectations and the user experience.
3. Decide on a style for your intranet portal.
As intranet portal software increases in popularity, so are new and innovative styles.
That being said, many platforms mimic the look and feel of the user interface based on popular social media networks like Facebook and LinkedIn. For one, it's familiar. A fair amount of your employees likely already use these platforms and know how to operate them.
Second, established social networks are designed for the masses — they feature a streamlined, effective design and are built for engagement. Leaning on these social media tactics can improve user adoption, employee engagement, and communication.
The look and feel of a potential software option matters. Take this into consideration while evaluating new vendors.
4. Consider integrations with your intranet portal.
Integrations are one of the most important factors to consider when shopping for an intranet portal.
Your business likely already has a lot of logistical processes in place, numerous tools, and standardized procedures for different tasks. If your intranet portal is effective, it will not add onto your list of internal tools. Instead, a strong solution will consolidate what your organization uses today, centralize third-party tools so users have one place to access everything they need, and replace unneccessary ones.
If you rely on Outlook, for example, make sure you understand what that integration looks like. Can you sync calendars? Automate meeting invitations? Send notifications on your intranet? How do you set it up? Integrations can range in capabilities so make sure your intranet portal efficiently integrates with important tools you use.
5. Don't neglect the flexibility and customizations of intranet portals.
Your business doesn't take a cookie-cutter approach, so why should your intranet?
Many "one-size-fits-all" intranet portals sound appealing because they're often quicker to launch and less expensive. But many times solutions like these severely lack flexibility, which will restrict how much you're able to do and accomplish in your portal.
You need a solution that will work for you today and in the future, because as your business grows, your intranet needs to grow with it. Neglecting flexibility and the ability to customize it "how you see fit" won't do you any favors.
6. Take reputation to heart.
Choosing an intranet portal is a big decision. While the solution needs to check off specific boxes for functionality and security, you also want to make sure that reputation and ongoing support is also a priority with your vendor. A vendor who treats you like a partner, rather than a customer, will go above and beyond to ensure you receive continual value from your intranet.
Look into the reputation of different vendors—read reviews from customers, understand what support services entail, and consider what ongoing innovation with the product looks like.
You should also choose an intranet vendor that has a proven track record in providing effective solutions to businesses in your industry. If current users of the product are happy, you likely will be too.
7. Have a well defined vision for your intranet portal.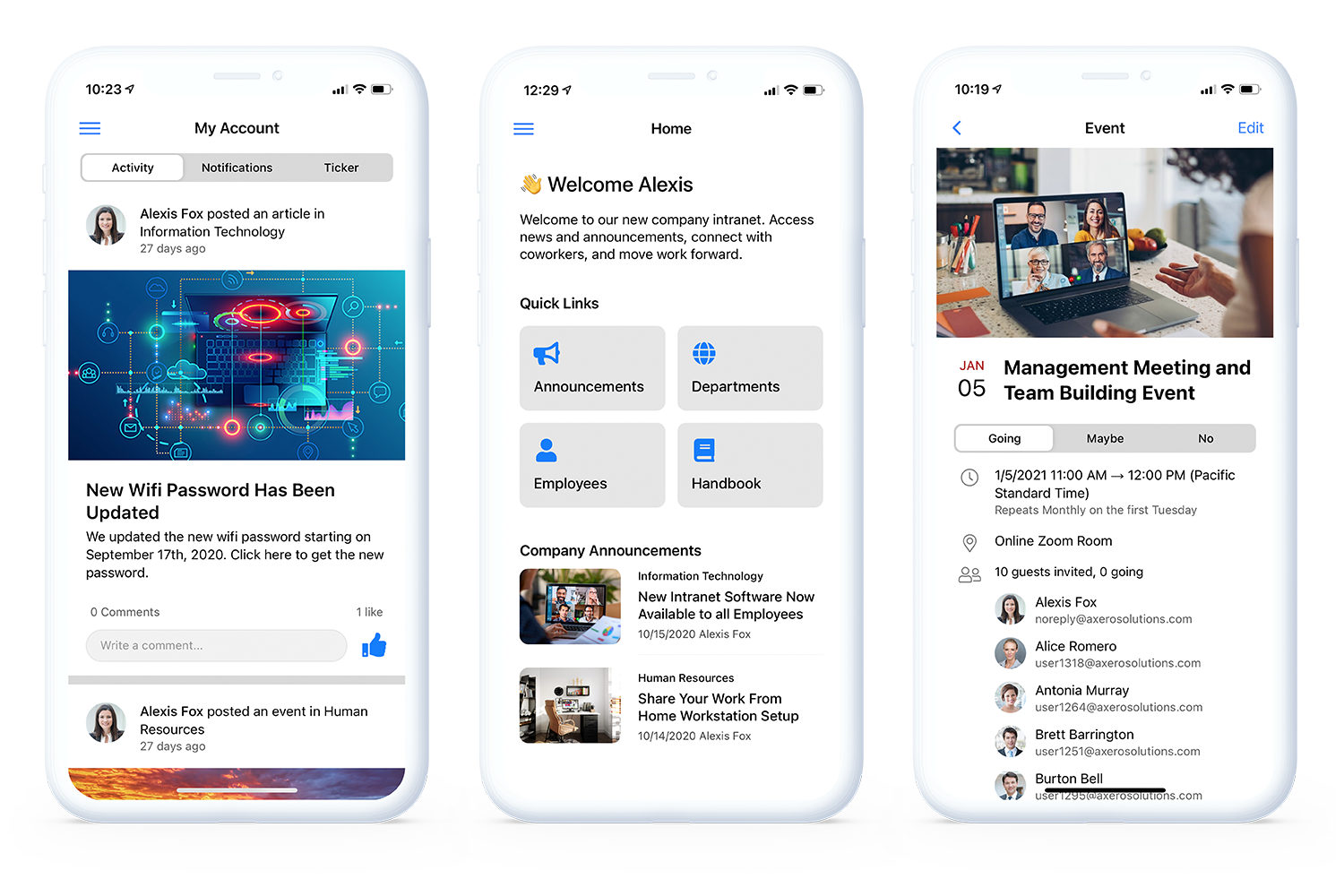 Set clear goals that algin with your corporate communications strategy so you can be confident that you select the right intranet portal for your needs. This will help you ask the right questions during your evaluation process, set you up for a smoother implementation, and give you benchmarks to track the value of your intranet.
We recommend to start by assembling your team of stakeholders, determine who the main users are, what they want, and why they want it. From there you can map out how your company knowledge and content will exist in a new intranet and how your users will interact with it.
The more clear and honest you can be, the better your chances of finding an intranet that is tailor-fit for your business.
8. Ask about implementation.
Launching a new intranet portal is a big project—and strong implementation services can make the world of a difference.
There's a lot that goes into implementing and launching a new intranet, such as single sign-on, roles and permissions, customizing the layout of pages, populating spaces, the list goes on. Having a vendor who is just as invested in your launch as you are will put your organization in a better spot.
Implementation services vary. Avoid hidden costs and potentially outsourcing to launch your new intranet by reviewing the implementation process and associated costs for each vendor. To learn more about what the launch process looks like, here's a complimentary ebook to help you get started!
9. Pay attention to communication and knowledge sharing tools.
Compared to email as a main form of communication, intranet portals are by far the superior platforms to manage and distribute information because they have built-in tools designed for different kinds of communication.
Not all software has the same knowledge management tools, or they may vary in functionality. Once you have your intranet vendors narrowed down to a list of 3 or 2, make a list of mandatory tools and pinpoint what the differences are between the solutions.
10. Formulate a budget and stick to it.
Intranet portals can be a big investment and you want to make sure you land on a solution that meets your needs and budgetary constraints.
While the price shouldn't be your end all be all guiding factor, it is crucial. Find the balance between selecting the right platform with the features and capabilities that accomplishes your objectives, while also meeting your budget. There are also numerous tools, like this intranet ROI calculator, to help you determine the value of your platform and what the ongoing value of your investment will mean.
Conclusion.
With many intranet vendors to explore, it can feel overwhelming to confidently narrow down your options. Take a deep breath and lay out a plan. With these 10 tips, you will have a more prepared place to start and ultimately end with the intranet portal that your organization needs.