Marketing is one of the most exciting things about business. It's the perfect symbiosis between business and creativity, so it's no surprise why so many people are seeking careers in the marketing field.
Finding true success in marketing can be challenging though, so finding ways to streamline your marketing processes is super important. Today's marketing teams need access to effective tools that can help increase productivity and improve the formation and flow of ideas. While there are a number of options out there, marketing collaboration software sits at the top of the list.
What is Marketing Collaboration Software?
Collaboration software for marketing teams is an all-inclusive suite of business tools specifically designed to help marketing teams share documents, ideas, and knowledge. Users can log-in from anywhere, at anytime, and on any device (laptop, tablet, smartphone, etc.) — there's no need to be located within a central office. The result is a social community devoted to improving the performance of your marketing team.
Many people have used software to collaborate in the past, although the latest versions of social collaboration software takes things to a whole new level.
Think about what you'd get if you take a popular social media network like Facebook, and design it specifically for collaboration within your organization. This should give you an even better idea of what's possible with social marketing software.
9 Major Benefits of Marketing Collaboration Software
Marketing teams that use collaboration software typically do so because they want to improve workflow and get the most out of their team. There are a number of benefits that are directly related to using online collaboration tools, many of which have immediate positive effects on any business, regardless of industry. Here are 9 benefits of marketing collaboration software:
1. Improved Communication
Communication is a key aspect of collaboration.
One of the perks of social marketing software is its focus on communication, allowing members of the community to interact through chat, group notifications, forum posts, comments, and much much more.
While email may still be a popular communication method for many of today's teams, collaboration software can replace the need for email in a variety of ways, inevitably turning your inbox into a notification center that leads back to your community.
2. Employee Engagement & Empowerment
Empower each and every member of your team.
Because some employees often feel hesitant about overstepping their bounds or speaking up, productivity and workflow often pays the price.
Collaboration software dissolves this issue, allowing community members to speak up and contribute ideas that may have otherwise gone to waste. This can be done through the various communication channels available in the software, as well as other features, including: ideation, gamification, personal profiles, project management, shared calendars, etc.
The result of using these features is a more confident, prolific team of employees that can help push your marketing efforts in a forward direction.
3. Document and File Sharing
Your team needs to share documents and files in a streamlined manner.
Unfortunately, finding an adequate document and file sharing solution can be easier said than done, especially if trying to use free tools that are available online.
Collaboration software can be a powerful platform for sharing files and documents quickly and efficiently, and in and extremely organized way. Whether large or small, you can pass files back and forth without having to jump through any hoops.
4. Consolidated Processes
It's nice to have everything located in the same place.
Many teams use multiple tools or applications to handle day to day operations, such as email clients, desktop calendars, and invoicing software … oh my!
With marketing collaboration software, all of these processes and more can be consolidated into a single log-in, effectively eliminating the need to use a variety of different apps.
5. Easy Retrieval of Information with an Awesome Search Engine
Sometimes, finding and retrieving information can be challenging. Let's fix that with a robust search engine!
If you're trying to find something in an old email, searching for a blog post, or simply looking for a file that seems to have gone missing, you'll want to have a great search feature in your marketing collaboration software.
Since everything is now located within your social platform, all it takes is a quick search and all relevant information is readily available. You won't have to worry about digging through a number of sources anymore.
6. Improved Security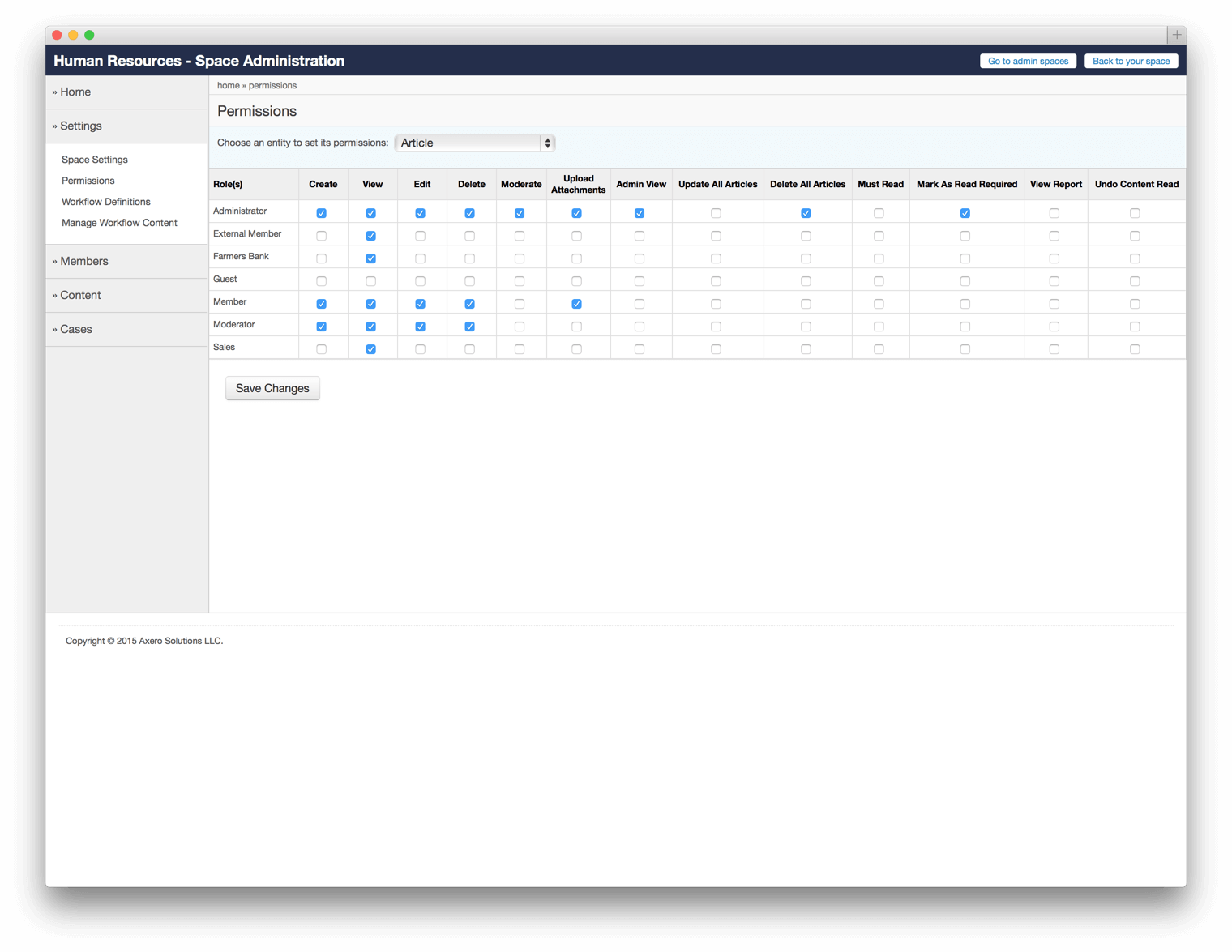 Security is SUPER IMPORTANT when working on a campaign or dealing with sensitive client information.
Email and other communication methods may seem secure, but there's more of a risk involved than many people realize. Since collaboration software for marketing teams is typically only used by your team, it's ideal for those who want to improve security.
You have full control over permissions, and data is heavily encrypted to lessen the chances you might suffer an attack by hackers.
7. Simple Content Creation
Blogging and creating useful content is a huge part of the modern marketing landscape.
Social collaboration software allows you to create as much content as you'd like, giving you the option to keep it for internal purposes or push it out to the public.
You don't need experience with blogging to utilize social marketing software for content creation, as it is exceptionally intuitive. You can even tag and comment on posts to ensure proper organization — something that often gets lost in the process of creating content.
8. Transparency
Transparency is key when working with other organizations.
Lack of communication and transparency is one of the most common problems you can encounter when working with outside teams.
With marketing collaboration software, everyone involved on a project is on the same platform and in the same community. This ensures a level of transparency in your project management and project collaboration efforts that cannot otherwise be achieved.
9. Faster Arrival to Ideas and Solutions
Great marketing is about great ideas and finding the right solutions.
Creating a well-designed marketing campaign can surely be time-consuming, although marketing teams generally don't have a lot of time to spare.
When you use social collaboration software as a conduit for new ideas, you're effectively cutting down the amount of time it takes to get from Point A to Point B. As mentioned above, there are many features that can streamline communication, content creation, and project management. So, if time is of the essence, marketing collaboration software will be your best friend.
On an end note …
As technology continues to improve, new solutions for the marketing world are popping up left and right. While many only amount to trends, collaboration software for marketing teams has been gaining steam and evolving in a forward direction.
For marketing teams looking to embrace the future of collaboration, there's no better time than now.
Start your free trial of Communifire today!
Get acquainted with it, and you'll no doubt realize just how much your team can benefit from taking the leap.